Smoothies and cocktails

Fruteiro's frozen fruit pulps allow, thanks to their convenient 4x100g format, to participate in the overall success of the Smoothies, a specialty plying a big role in the growing interest in a healthy lifestyle.
The total naturalness of Fruteiro pulps makes it an ideal ingredient for these preparations and represents for professionals a perfect alternative to fresh fruit in terms of nutritional and functional values, as well as taste.
Among the advantages of Fruteiro pulps:
All the quality of the best fresh fruit is made available for 30 months from the date of production.
The portioning avoids any waste, allowing simple and precise preparations, with a low and controllable cost of goods sold.
The wide assortment of tropical fruits and of the main fruits from temperate climate offers an almost infinite potential for innovative recipes, enabling the creation of exclusive Smoothies menus, also with the help of Fruteiro, which provides customers with more than 50 original recipes.
Brazilian specialties
Tropical classics
Pineapple
Banana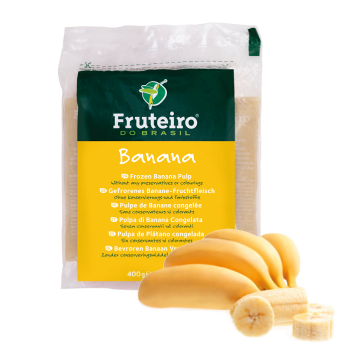 Banana is rich in potassium and, with its familiar sweet taste and rich texture, it is the ideal ingredient of many smoothies.
Coconut
Goiaba (Guava)
Lime
Mango
Maracujà / Passion Fruit
Temperate climate fruits
Strawberry
Red Fruits
Raspberry